In June 2019, we released the announcement of the Auto Chess Invitational 2019 with a total prize pool of $1,000,000. Since then, we have received a huge amount of inquiries regarding the details of the tournament. Today we are proud to announce the first details and Premium Partners of the Auto Chess Invitational 2019.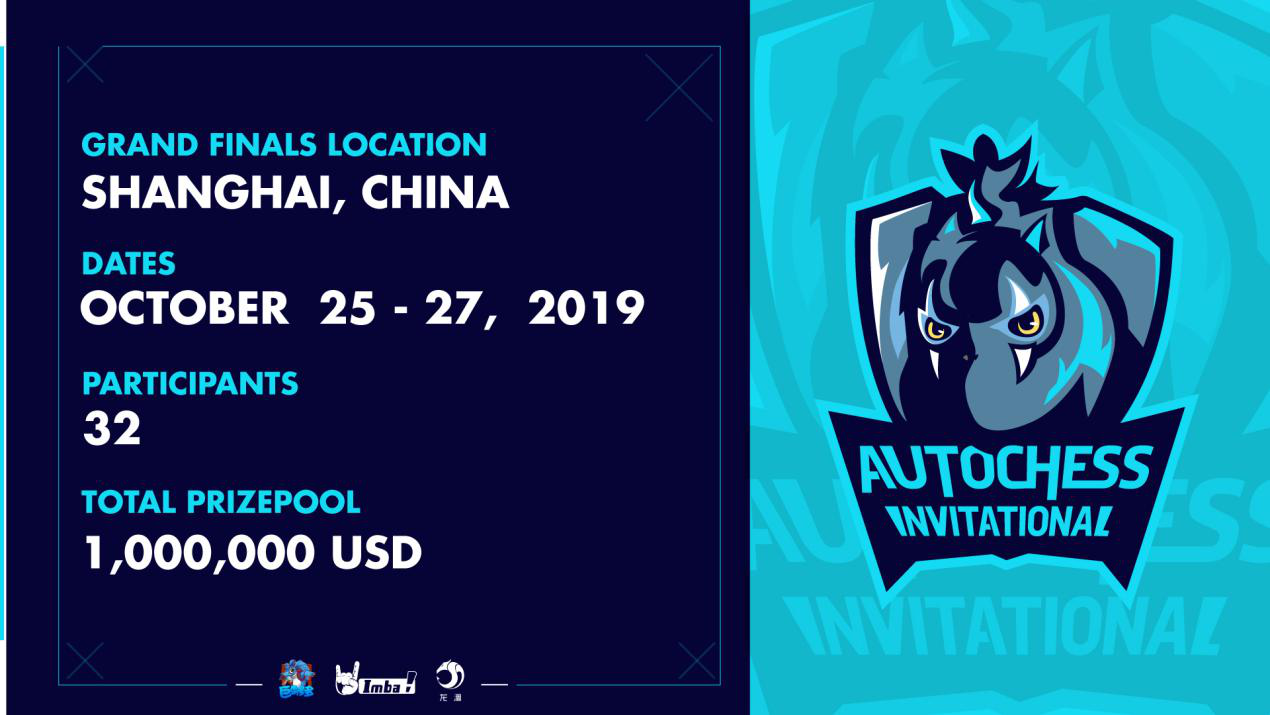 Our very first international championship will feature 32 players from 8 territories. Global competition map is split into the following regions: North America, South America, Europe, APAC, and CIS. In addition, due to the high popularity of the game, South Korea, China, and Vietnam will have its own qualifiers with direct slots to the finals.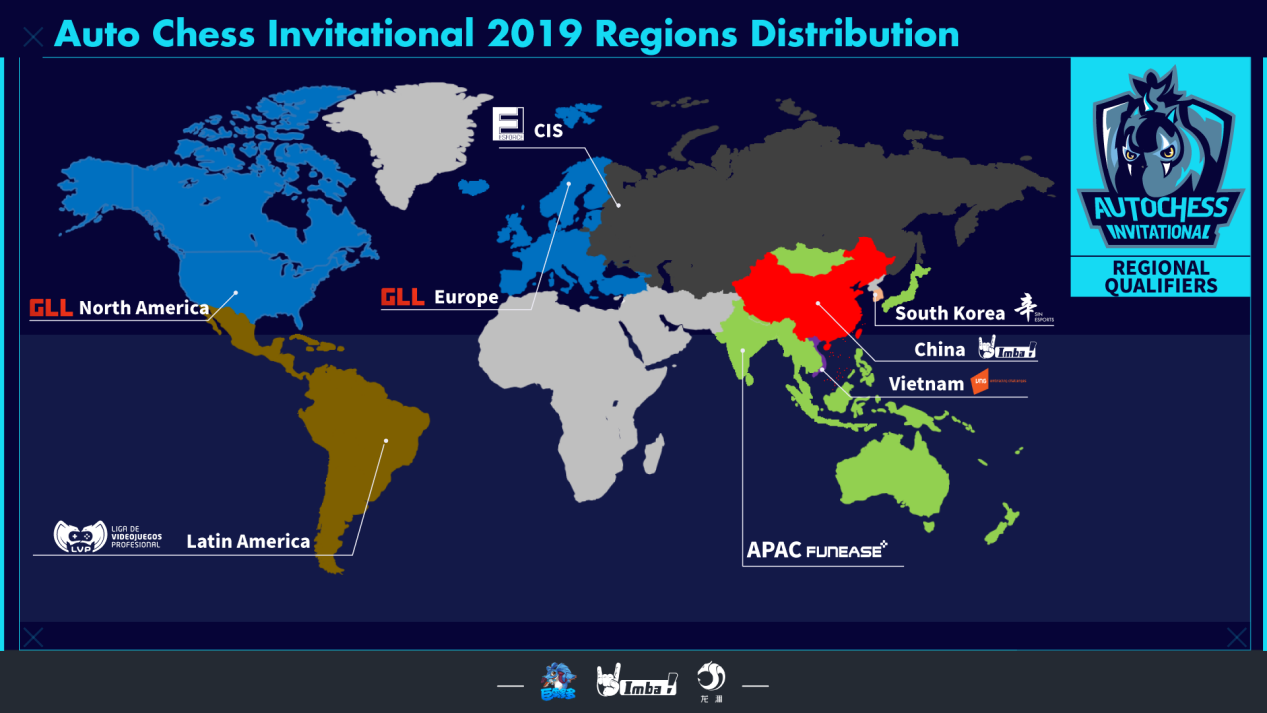 We are pleased to announce that we have partnered with Imba!, GLL, ESforce, SIN Esports, LVP, FunEase, and VNG; who's experience boasts hosting some of the biggest LAN events internationally and across various titles such as CS:GO, Dota 2, PUBG and many more, to organize regional qualifiers for Invitational 2019, furthering esports in Auto Chess and growth of local communities.
Regional slot allocation as listed as below: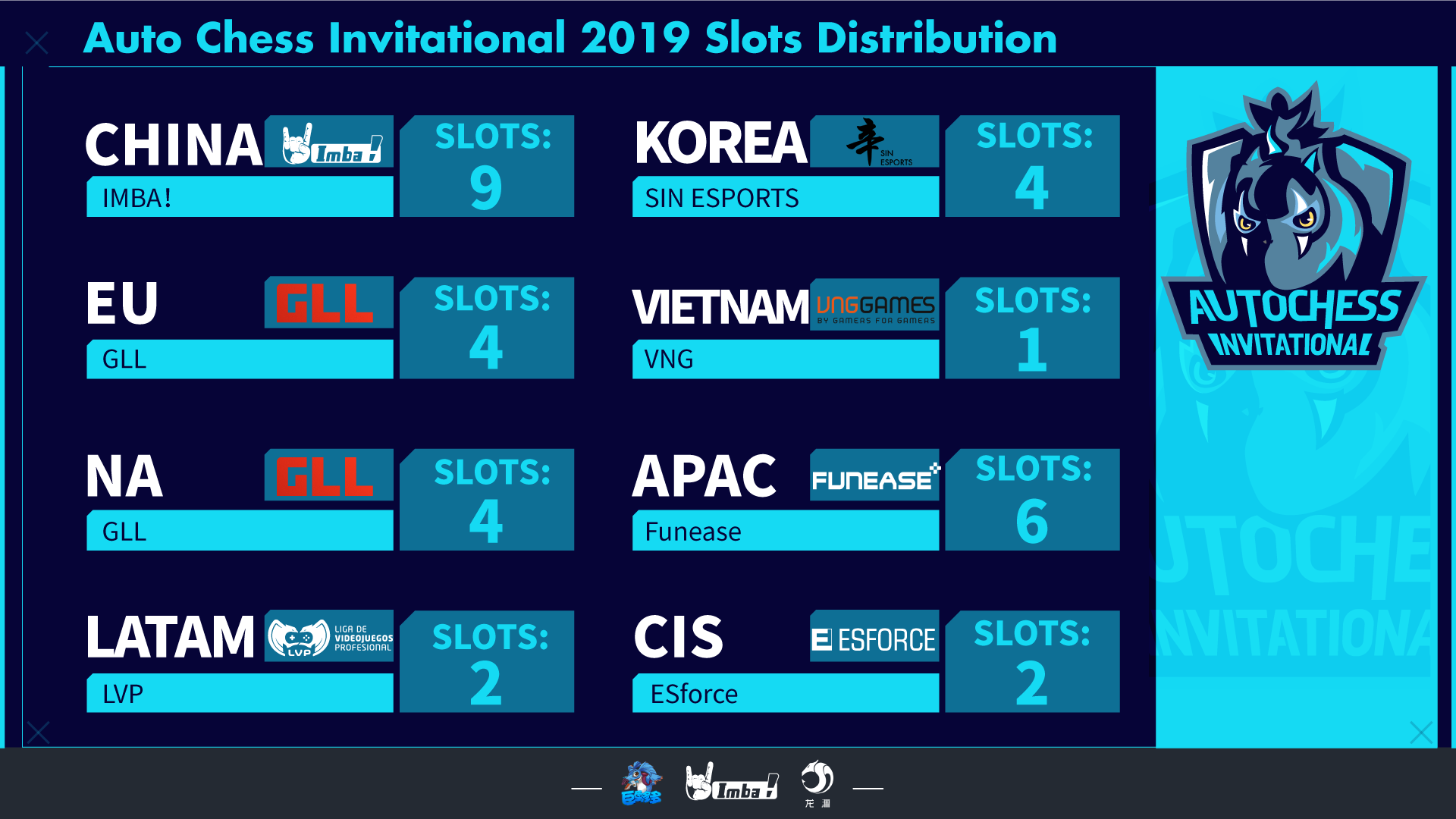 Regional qualifiers will take place from late August to mid-September. For more information, please follow our Premium Partners. Announcements are coming soon! If you want to reach out to your regional organizer, please use the contacts below.
Looking for the opportunity and platform to showcase your talent? Start by downloading the recently released Drodo Auto Chess from IOS and Android app stores! We are looking forward to witnessing the birth of a new Champion at the first-ever Auto Chess Invitational!


About our Premium Partners:


Imba
Established in June 2014, Imba is a company that dedicates in live/on-demand broadcasting esports media to the end-users in the content delivery network. We aim to become one of the top content creators that provide the highest availability and performance. Imba has had great success in broadcasting premier Dota 2 tournaments such as The International and Majors. Co-organized with StarLadder, several SL i-League Invitationals and over 15 events of StarLadder i-League StarSeries Seasons were successfully held.
For more information please visit: http://www.imbatv.cn/
Contact email: [email protected]
GLL
GLL is a competitive esports platform and tournament organizer, arranging tournaments and leagues for multiple games including Auto Chess and PLAYERUNKNOWN'S BATTLEGROUNDS (PUBG). GLL hosted its first tournament in 2017 and has since become one of the most well-renowned tournament organizers and one of the most competitive platforms within Battle Royale.
The brand GLL is owned by G-Loot, an esports company with headquarters in Stockholm, Sweden. G-Loot is a unique player-to-player platform that has been on the market since 2015. G-Loot today has over 50 employees based in Stockholm and is one of Europe's fastest-growing esports companies and has received over $40m USD in investment.
Join our discord channel to follow the news: discord.gg/gll and talk to us on Twitter: https://twitter.com/GlobalLoot
ESforce
ESforce Holding is one of the world's largest esports organizations and the leader of electronic sports in Russia. The holding company integrates all key areas of the esports business, from organizing international tournaments and professional content creation to publishing and advertising activities. ESforce owns over 220 popular online resources with a combined audience of 12 million followers and 114 million annual unique visitors, which provide a 90-percent reach to esports broadcast viewers in Russia and the CIS as well as access to a significant share of relevant international audiences. In 2018, the holding became part of the largest technology company in Russia, Mail.Ru Group.
Join our discord channel to follow the news: https://discord.gg/R4sks7v
LVP - ArenaGG.com
The LVP (League of Videogames Professionals) is the biggest eSports organization in the Spanish-speaking world, leading the industry with both online and live tournaments. Manages and owns the most prestigious competitions, such as the official national leagues of LoL in partnership with Riot Games: in Spain, UK, México, Argentina, Colombia, Chile and Perú. Produces and broadcasts Virtual LaLiga eSports, Free Fire League, Clash Royale Nations Cup, and many others including amateur online competitions in its platform ArenaGG, the biggest Spanish-speaking e-sports online platform with over 1.5 million registered players since 2017. LVP produces large events such as its main event called Gamergy, with 60.000 attendants per year in Madrid, and over 50 more events around the globe every year.
Contact email: [email protected]
FunEase
In 2017 FunPlus and NetEase Games incorporated FunEase as a joint venture to operate esports tournaments, events and top-quality streaming broadcasts for all kinds of games and game publishers across the industry.


Our vision is to push the boundaries of the esports industry bringing world-class organization and production to create the best events for players and esports spectators alike.


For more information please visit our website and follow our social media:
SIN ESPORTS
SIN ESPORTS is South East Asia's platform for Esports, targeting the 11 different countries within the region. The company specializes in online tournaments that span for at least 12 weeks, in order to give full exposure and advertising value for brands that come on. Sin Productions owns a talent agency that trains new commentators for Esports. A recent tournament that Sin Productions did for 3 months, brought in 6.9 million views throughout the region, partnering with Yahoo and other significant partners throughout the region to cater to entertainment for Esports.
For more information please visit: http://www.facebook.com/sin.esports.official/
Contact email: [email protected]
VNG
VNG is an internet company founded in 2004, specializing in digital content and online entertainment, social networking, and e-commerce. It owns the Zalo, Zing, and VNG games brands with over 100 Million users across PC & Mobile, and has offices in Vietnam, Thailand, Myanmar, and Indonesia. VNG Games is pursuing its goal to provide gamers access to the best quality games of all genres across Southeast Asia and the world; it is currently operating games such as PubgM, Mobile Legends, Autochess: Origins, and Crossfire: Legends.
For more information please visit: www.vng.com.vn
Contact email: [email protected]